---
Page updated on April 14, 2012!
---
The Radio Control Motorcycle page!
---

This page is mostly concerned about the Kyosho 1/8 electric motorcycles.

Team-Quad! was the first team in Greece to organize a racing exhibition with these bikes. Although the cost of the first generation motorcycles was half of that of a decent buggy, sales were always poor. Team-Quad owns seven (!) bikes: Four of the older Mk1 models AND three Mk2 models. The latest addition was a '03 Yamaha R1 made by Thunder Tiger.
---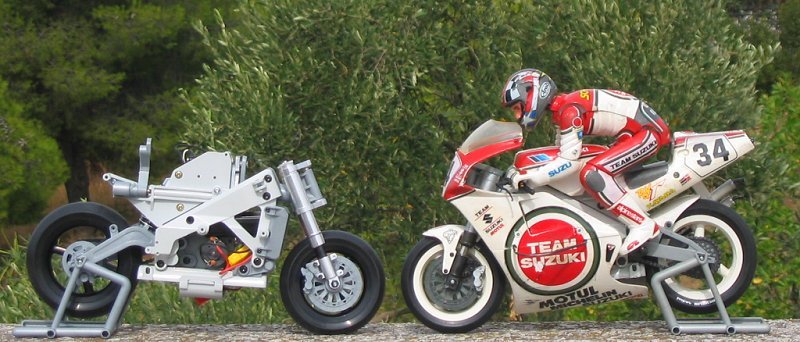 ---
August 29, 2012: RC Bike Worlds 2012!!!
August 20, 2012: RC Bike Worlds Paint Scheme
May 30, 2012: RC Bike Warm Up, 2012!
May 10, 2012: My 2012 RC Bike Worlds paintjob!
April 14, 2012: Testing the Kyosho Mini-Z Moto Racer!
April 04, 2012: Installing Clark's Carbon Swingarm plates and preglued tires
October 16, 2011: I raced at the PreWarmUp at Riccione!
August 17, 2011: I raced at the RC Bike Worlds 2011, at Lostallo, Switzerland!
July 14, 2011: My new 2011 RC Bike Worlds Paint scheme!
April 30, 2011: I converted the KP09 to KP10! Read hwo I did it!
April 30, 2011: Adding weight to the SB-5 and some new ZH-Racing wheels!
January 4, 2011: Our new Thunder Tiger SB-5!!!
November 26, 2010: Our newest bike addition: An Anderson M5 Cross!
September 6, 2010:I raced the KP09 at the Worlds!!!!!. See the pics and videos!!!!
February 6, 2010: Adding a few details to the KP09.
December 7, 2009: A new KP09e bike!
November 10, 2009: Testing the bike at Arena RC Track
October 18, 2009:A new paintjob for the TT Yamaha!
January 10, 2009: Venom 1/8 GPV-1 rc bike!
October 6, 2006: Racing the TT against Blata minibikes!!!! (Video included!)
September 17, 2005: Fun and games with the TT, the Suzuki RGV and three cars! Oh... there are small videos there as well!
January 16, 2005: Installing a right front "Pat's brake" on Ayrton's TT
November 30, 2004: Added USD forks on the TT and took couple of videos!
October 23, 2004: I made an adapter so I can use my FF3 for playing car racing sims like CMR4, or r/c car sims like BSR on my computer!
October 10, 2004: I created a new site at tripod.com, where I have put scans of the Kyosho bikes owners manuals, as well as a few decal sheets scans. The url is: http://steliosh.tripod.com
August 26, 2004: Scale looking and fully functional brakes for the TT. Courtesy of Pat! Updated September 10, 2004! The brakes WORK!
April 3, 2004: Setting up the TT
March 08, 2004: Adding a (fake) exhaust to the TT!
January 06, 2004: Running the FM-1e, and FIVE Videos! Update January 9, 2004, for both the Kyoshos and the TT
December 31, 2003: Dangerous Cats! I know it's not... related.. but it's funny!
December 20, 2003: Updated the NSR Mk2 pages!
December 20, 2003: Updated the RGV Mk2 pages!!
December 20, 2003: Updated the NSR MK1 pages!!!
December 07, 2003: Running the TT FM-1e
December 02, 2003: My new 1/5 scale Thunder Tiger Yamaha R1 Updated Dec. 31, 2003!
November 26, 2003: A great article on Racing Kyosho bikes. (Dating back to March 1997)
October 26, 2003: My fleet of Kyosho bikes.
August 01, 2004: Updated the links. (These are really updated regularly, so don't count the updates, here!)
October 19, 2003: We build a new Kyosho Suzuki RGV 500 HOR.
October 19, 2003: Suddenly we have TWO new RGV500's! Read all about it!
October 6, 2003: Running the old Pepsi-Suzuki RGV 500
March 4, 2003: Some really old Kyosho bikes, dated 1980! Update November 19, 2003! New pics of old bikes!
Some Companies that make things and bits for R/C bikes! Update: Feb. 08, 2002.
The Repsol Honda NSR500 of J.Mills! How it was done? Updated Tuesday, Feb. 04, 1997!
My new Honda NSR500 motorcycle!.
Update : January 29, 2002! Useful tips on setting up the bikes, using either Kyosho's own or third party options.
Kyosho's older R/C motorcycle models, circa 1986-1987...
The Mk1 R/C motorcycles.
This is a brief review of our own NSR500.
The new models (Mk 2) with the moving rider are here
Please give us your comments.....
What to do when winter and snow is at your front door ?!CLICK HERE!
---
Team-Quad's main page...
---