---
Since December 20, 2003:
---
Remember my old Mk1 Honda NSR?! The bike that actually started this site?!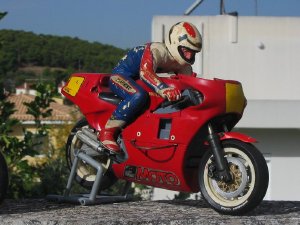 Well, since it was really relegated to the back of the shelf, I decided I had to do something about it. It was making me feel sorry about it, all scratched and with no appropriate livery... One night, I was browsing at ebay.com and happened upon an american Honda NSR Mk1 for sale. I bidded and luckily enough I was not outbid and got a quite nice price too. So, the man sent it duly over to me and very quickly too, in about a week's time...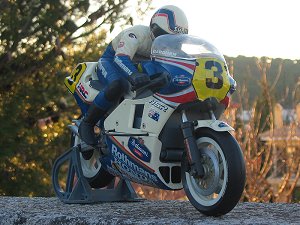 It was in almost mint condition, very slightly used, as you can see in the pics, and lucky me, there was a Tamiya CPR unit included, which was fully operating, too (Did I thank you for this, Ernie?! Thanks!)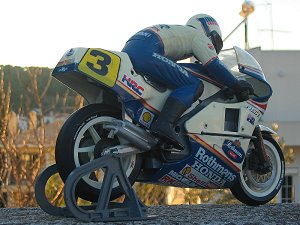 There was a minor detent on the rider's back, but Ernie had included a full set of untouched decals for the bike and rider, so this will be rectified some time real soon.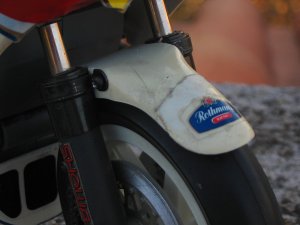 Other than that, the front fender needed gluing; it came in two pieces, but this might have happened on the mail. The chassis was not in the best shape, so I dismantled both my old NSR and Ernie's bike, and made a new full bike using some chassis parts of mine and almost everything you see from the new NSR.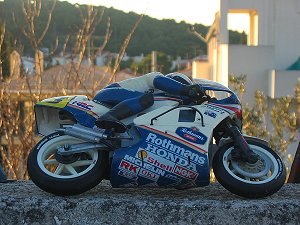 So, finally I have all the bikes that Kyosho made since 1988. The rest of the fleet can be seen here...