The R/C motorcycle Hints and Tips page!
---
We provide here news and useful hints and tips for the Kyosho Electric Motorcycles!
---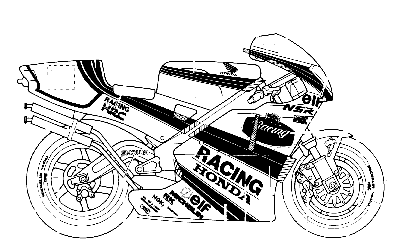 Nick Duthie from Scotland wrote the following:

You mentioned there was racing somewhere in the UK. I thought you might like to add this to your page sometime. The bloke who runs it is called Paul Weaver (+44 (0)1695 733030) and the club is called the North West R/C Bike Club. It races through most of the year at various circuits in the North of England. They also race sidecars which are converted Mardave Ministocks (1/12th scale oval racers) with a specially made motorbike sidecar shell which is available from the club.

---
Some more set up tips!
Remove the corner of the battery compartment where the chain drags accross it.
Cut away the front of the belly pan to improve the wheel clearance.
Bend the side supporting stabilizer loops down to stop the front end understeering in corners by reducing the angle of lean.
Fit a screw from under the battery tray to press on the swing arm for ride height adjustment.
Remove the 'O' rings from the front oil shocks and fill them with grease, not oil.
Cut a spare intermediate gearbox gear (18 tooth) in half and insert the small 10 tooth pinion into it, glue it back together and you have a 'mega pinion'
Put a screw throught the chassis front into the gear box plate as a chain tensioner.
I hope this will be of some help
Yours,
Nick Duthie
Eskbank, Midlothian, Scotland

---
One very recent useful tip: From Janssen Manuel, from the USA, dated Monday, January 28, 2002.
---------------------------------------------------------------------------
For motor you can fit an HPI micro rs4 45t motor.


and some more info, on Jan 29, 2002:

hi, i have some tips for you guys. if you are having troble with the front hop-up shocks (forks) from kyosho leaking from the orange o-ring replase the with a little smaller o-ring. and you guys that want to go faster try picking up a hpi micro rs4 motor. (its a 45t motor) if you want some hop-up part for your 1/8 motorcycle email me. i know a shop from hong kong that have some.

thank, hopefully i have been some help to you guy.


---
Again from Janssen Manuel, on January 09, 2002:

GO FAST TIPS;
1.GREAT PLANE PART # GPMG0305 S 280 7.2-8.4 FERRITE MOTOR BB(ABOUT 20 US DOLLARS)W/ 14T PINION
2.SANYO KR-600AE CADNICA EXTRA (ABOUT 4 US DOLLARS EA.) NEED 6 IN STICK PACK CONFIG.


---
Feel free to send us your comments, ideas, hints and tips, whatever! Even photos are welcome! See you!
---


Back to R/C models page...

Copyright ©Maitre 1996
Page updated on Sunday, December 01, 1996