Sunday, October 19, 2003:
(Click on each image to view the 800x600 big picture).
---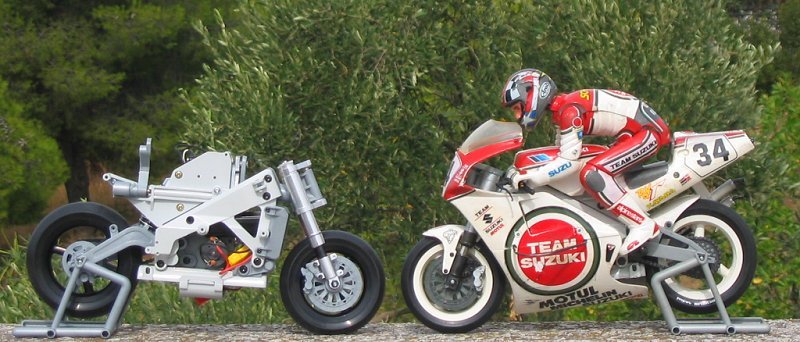 So, I recently purchased a new Kyosho Suzuki RGV 1/8 r/c bike and a few extras from the internet. I found these searching on ebay.com. I bought the bike from stellamodels, along with a rider rebuld set, a Futaba MCR unit and a new radio set, a Futaba 2PL operating on the 27Mhz, appropriate for the bike.
I got the extra rider set for my older NSR500 bike, because I was missing a few critical parts from him, but upon opening its old box, I realized the bike's fairing was also missing, plus the CHAIN!!!!.
I think I'll get me another NSR while they can be... found and keep my old bike for spares!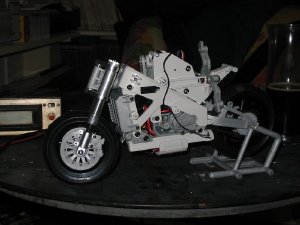 I managed to build the new bike, and as you can see I already have another model to work on. Read the full story here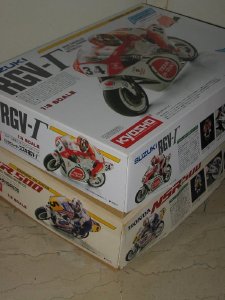 While on the ebay.com search, I found a few hop ups for the bike, so I promtly ordered them too: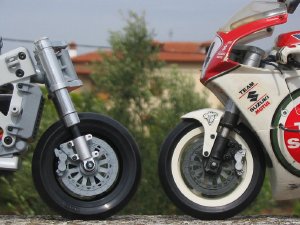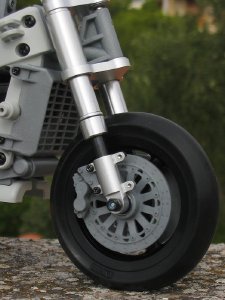 A GPM aluminum oil-filled from fork...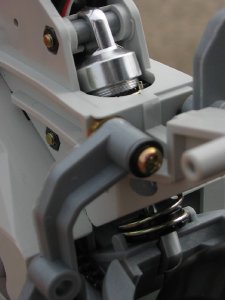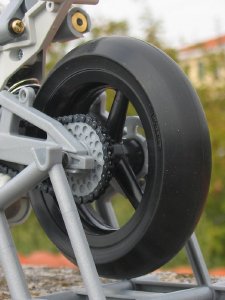 ... a Kyosho Option rear oil-filled shock and Kyosho's High-Grip tires, which are filled with foam inserts, while the standard ones are just empty. Also from the same source, rl0725, came a full set of ball bearings and is expected some time this week a new aluminum swing arm to complement the bike.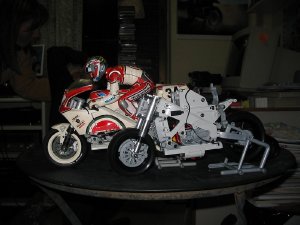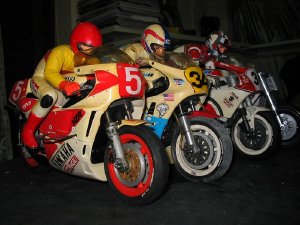 So, now, finally I can compare the built Suzuki, with the one of my friend's Ayrton which acts as my model.

What's worse... yesterday, on Saturday, I decided to ride my BMW to a track close to my home. I loaded my working bike (the old-style RGV, with the Pepsi livery), transmitter, 3 batteries, charger and a few tools into my bike's top case and was ready to leave. Ayrton calls, and says: "Hey, bring the 1/10 Mugen Ferrari F355 with you, so we practice a little at the track". So, I load the car, with its paraphernalia in the topcase, too. Another friend, also with a BMW R1100GS was looking for a nice way to spend a Saturday afternoon, so he came at my home, in order for us to ride the BMW's together to the r/c track. Upon leaving home, rain started, so we decided to go by car. I throw the BMW topcase in the Punto's trunk, and we drive to the track. However, we LEFT the bike (and bag's) keys back AT HOME, along with helmets, gloves etc! So, instead of riding our bikes, the RGV and the 1/10 Mugen Ferrari, we sat there, chatted with old friends, saw the 1/5 scale cars practising, took a couple of photos and returned home. End of story, so far!

As for my new RGV, as I said I m expecting this next week the aluminum swingarm, and then I will continue building it and running it of course! Stay tuned!!!
---
Update! October 21, 2003: The swing arm arrived!
---
Update December 20, 2003: More tricks for the RGV!