---
---

Update January 09, 2004

This afternoon my friend Costas (aka Ayrtos) called and we went together at a huge and NEW supermarket parking lot with fresh and good gripping asphalt. So, I took 3 bikes with me, a Kyosho MK1 Yamaha, a Kyosho Mk2 Suzuki and the TT of course! He brought his own RGV (which I rebuilt recently; check here for the laughs!)

The little HOR's were fun and quite fast, both with the BB28 motors and new 600mah batteries etc. In my Suzuki, I have also put a GPM aluminum swingarm, a high-grip rear tire, the silicon front tire insert inside a stock tire (courtesy of Dave from California, the originator of the Kyosho Riders group at Yahoo). Both bikes have oil-filled rear shocks: mine has the Kyosho optional), Costas' has the GPM shock. Both bikes have the GPM oil-filled forks, too. So, we ran them and they were fun, fast and finally very easy to drive, too...

Now for the good part: Costas also brought along two of his motors, a hand-wound 19x2 recently refurbished by our friend Thomas Penka, of the Penka R/C Car bodies fame with new brushes/springs and bearings plus a newly cut commutator and dyno-run result on hand, and another one that looked like a something-single. We first put the 19 on the TT and ran it with 2 batteries. Run-time was VERY big, with the Trinity S-Spec 1200 battery reaching 10 minutes easily! As for the bike's behavior, it was simply brilliant! Now, at last you can feel the speed (maybe similar to Bsixmiguel's video) and the handling of the bike was supreme. The steering felt perfect, if a little slow, but it was good for us slow and inexperiecned riders. The bike would not pop wheelies, or even try to lighten its front end, but that's okay, with these motors. At the end of the last battery we had, I noticed something weird with the steering, and as I discovered later at home it was the servo (not a fault of the bike, this time! see below for details!)
While it ran, however, it stunned both of us with the realism of its movement and at last the quickness of its steering, helped a lot by the ABS-equipped brakes of the LRP ESC and of course the power of the motor. I suppose that with an even more powerful motor, it would be easier to power-drift the bike when entering the turn. Once again, I felt that the bike is very fine with a "rear" brake only.
However, I have a few gripes/notes to offer, after running the bike almost non-stop for 65 minutes and with 3 or 4 minor crashes in TOTAL, from both of us sharing the ride!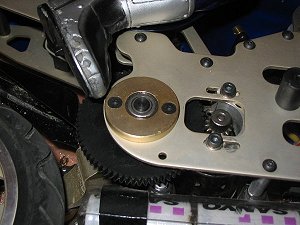 * I lost the e-clip on the right side of the swingarm/front chain sprocket shaft. How and why it came off... I can't understand!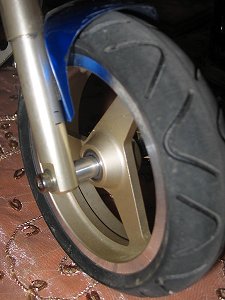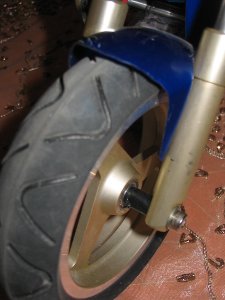 * The front wheel axle disintegrated itself, at around the 30 min. mark, and I lost one of the two aluminum spacers. I wrapped some electrical tape around one side of the axle, and tightened everything back. Mind you, the last time I had disassembled this, and made the grub-screw trick, I threadlocked both allen bolts on. I will have to somehow fabricate a new aluminum spacer now, myself!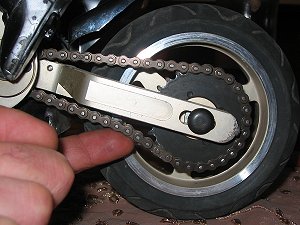 * The chain has developed a slightly big slack. (I had almost forgotten about chains on bikes, the last 2 years riding a real BMW boxer bike!) Does it need any kind of lube? It's not an o-ring chain... If I sprayed a little Bel-Ray on it?!
* The crush bar stays on both sides are a little loose and the crush bars themselves have developed a nice upward incline!
* The grub screw that adjusts the castor angle, won't stay at its adjustment after 5 minutes of running (needs threadlock, it seems)
* The forks have developed a noticeable sloppiness but they do not bind- yet!
* My new S3003 servo ground its internal gears!!!!!!!!! This servo is brand new, and it first saw service on the TT, having worked -if you can call it work, pulling and pushing two light springs, anyway- for about 3-4 hours total... Strange... I wonder is there any kind of warranty for these?! Who cares anyway..

Oh... we also ran that something-single motor, but it definitely needed brushes, some commutator work, oiling etc etc, and it was barely faster than the stock motor I previously had. Next, I will try my Trinity (old-school, with 4.5 magnets) 14x2, which I was running in my 4wd Lazer ZXR (circa 1991, both car and motor!) which btw are both in mint condition...

Call me another happy customer with an... Italian bike?! (Doesn't it remind you of Fiats of yesteryear?! )

They used to call it... character!

I'm trying to convince Costas now to get the Ducati for himself... He murmured something about his own Mrs Boss... toys for big boys, you know the excuses

Last but not least, we tried to film some video, but it was definitely too dark for the video to be anything useful... Maybe on Sunday with the 14x2 onboard and certainly a new servo!.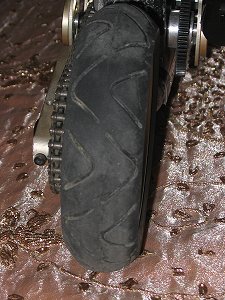 And here is a well used rear tire. It has rarely been spun yet, but it has done a thousand beautiful brakeslides!