---
Since December 20, 2003:
---
So... this bike was into hibernation, inside its own box, until recently. I somehow decided to make it a runner once again, but upon opening the box, there was a sad surprise waiting for me... Somehow, my son a few years back had managed to "steal" a few items out of the box, while the bike was dismantled: The rider's head, one leg (!), his back, the complete fairing and the CHAIN!

I told about this to some friends at a yahoo forum, and in the next few days the RCMCC from California sent me a small box containg a few things: A full unpainted fairing, a new chain, as well as two of their own molded silicon tire inserts to try.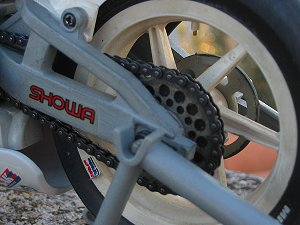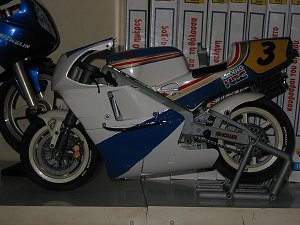 Meanwhile, I was tricking my already tricked out new Suzuki HOR bike even more, so the NSR was somewhat neglected.

Alas, I had to get hold of the very same color that I had originally painted my NSR, when it was still alive and kicking!

In the meantime my garage was getting bigger and bigger: My friend Louis found his NSR HOR also in a box and asked me nicely to rebuild what was left of it!!!!! It was missing two things: The bike stand and the lower fairing...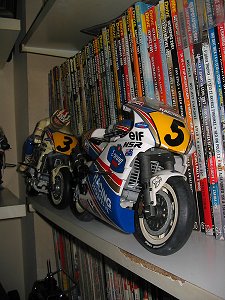 In the back is Louis' NSR, with number 3. At the front is my own rebuilt NSR with number 5.



So, I managed to rebuild the NSR, paint it and decorate it with new decals found at www.rcmart.com for around $10. You may actually wonder where is the rider? Well, I still have to fabricate a few metal and one plastic part for him to safely ride this famed bike. By the way, and since Louis has decorated a Doohan bike, I made my rider a Gardner. Just for some competition; same thing as I did with my Suzuki, even though I am a big fan of Kevin Schwantz.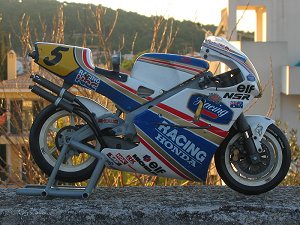 So the bike is complete, minus electrics, and with only ball bearings around and nothing else on it.



Finally, here are a couple more pics of the refurbished NSR:

---
Back to the start...