Page updated December 3, 2010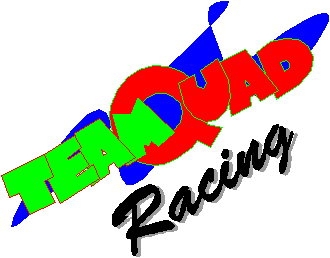 Team-Quad is a non profit R/C car racing team, consisting of many drivers mainly from Athens, who race many different cars from different manufacturers. Our aim is to promote R/C car racing, especially helping newcomers, as well as helping other racers too!

We're not sponsored by any company, so far, but this has nothing to do with our results, which are always near the top, or at the top! Some of our team members have been Champions in recent years!

In the next pages you will find pics of some of our cars and whatever R/C we do!.
Enjoy good R/C car racing!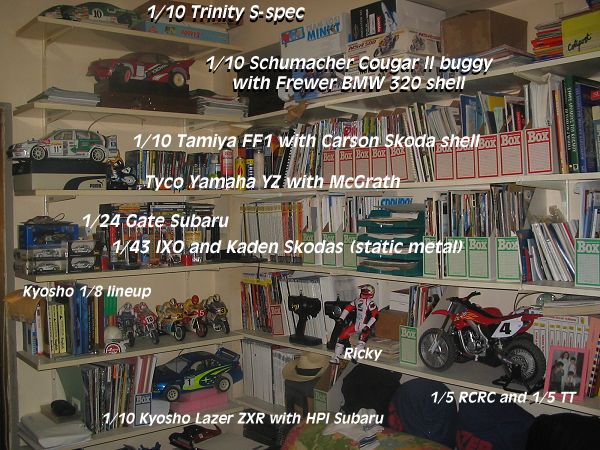 These are just a few of my little toys!!!!


What you see above are most of my toys.
Actually, seeing from top: The Trinity S-Spec was bought new when the S-spec Trophy was ran in Greece, sometime in the late 90s. It is not a runner. The Schumacher Cougar is a model I have bought new when it was a new model, around 1991! It still serves as a good drift-machine (see lonk below!). The Tamiya Skoda was my first "narrow" sedan! (also linked below). The Tyco is a TOY. No more words! The same holds true for the Gate 1/24 Subaru. The Kyosho and Ricky C. Honda CR250R bikes can be found at my "rcmoto" section, also linked below. Finally the Lazer ZX-R is also somewhere below!

What you do NOT see above are: A bad looking but still operating Marui Toyota Land Cruiser (my first ever r/c model, really!), dating from 1988! A Tamiya 1/10 Alfa Romeo GTA (link below). Two 1/12 chassis cars: A Parma and a Bolink; I used to race these both in some earlier life! A Tamiya Blackfoot (linked below). A Kyosho 1/20 Mercedes 190E 2.3-16V Evo, a Kyosho 1/12 Mini Cooper. Finally my latest addition a 2003 Team Losi XXX-Graphite sedan (linked below).
---
---
---

This tip for Greek Netizens living outside Greece, as well as to anyone wishing to view Greek fonts on our Greek pages: Click here to find zipped files of Greek Win TrueType fonts and Greek Mac Fonts!
---

Message toTeam-Quad!
---