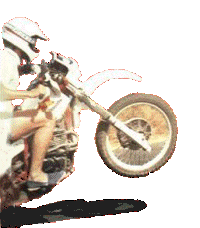 My biking career started in 1980!

My first bike was a 1979 Suzuki ER50, also known as the XK50ER, in some other markets.

This lasted until 1981, only, when my first lifesize motorcycle came into my life. This was the then famous Kawasaki KL250.

In 1985, it was duly replaced by a BIG thumper: A 1984 Honda XL600R.
April 5, 2002:And a few new scans of the old dog!

Then, in 1989, a new Yamaha DT200R came into my life...

On Friday, March 14, 1997, I bought a BMW F650!

On June 19, 2001 I bought a used '98 BMW R 1100 GS

August 8, 2001: A KTM 200 EXC was added to our home! Brand new, this one!