April 8, 2006

Venom Racing Speedometer!
(Click on each image to see it larger and clearer)

---
---

You know how crazy I am about gadgets!
Recently I was browsing through an r/c car magazine and saw an ad for the Venom Racing speed meter! Instantly, I knew I had to have one! Even though my bike is not really the fastest thing on earth, however, I think it would be fun to know how fast it is! I ordered one at my LHS Hobbies Shop and it arrived in two days! Upon opening the box and reading the instructions, I realized it was really using the same concept as the bicycle speedos. In fact I do have one installed on my BMW motorcycle and another one on my KTM EXC200!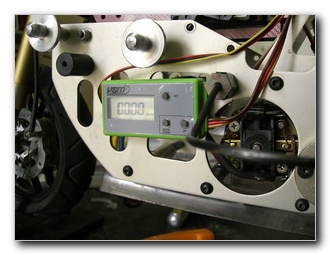 I mounted the speedo module on the left side of the bike's frame, since it was the only flat place large enough to accomodate it!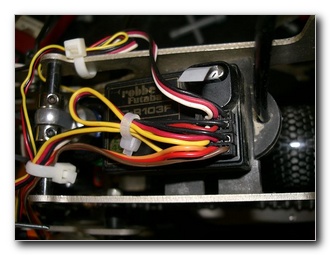 Since I have a 3-channel receiver on the bike, I plugged the speedo cable on the "Battery" connector, and it seems to work just fine, there!
I tidied up the cables around the top shock mount and routed the receiver module to the right side of the bike: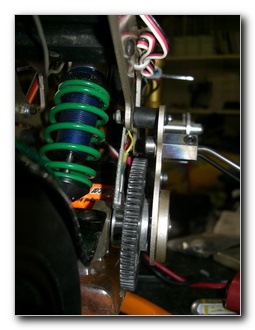 I secured it on one of the existing frame bolts.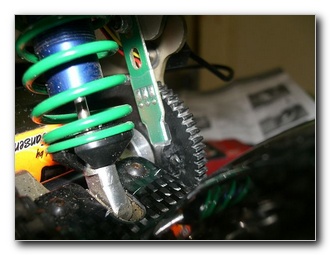 I removed the motor and the battery tray for a minute, then drilled a 3mm recess into the spur gear. I put a small drop of CA glue in the recess and pressed the magnet in there, as per the speedo's instructions.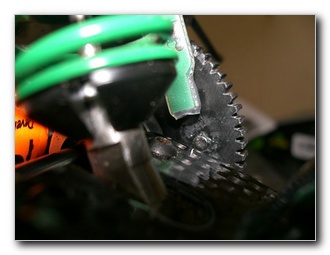 A closer look of the magnet and the receiver module.

Next thing is to calculate the wheel rollout so that the speedo shows the real speed of the bike!

Call me crazy or what you wish, but I love such things!
Update: After resetting the distance on the speedo, according to its instructions, I could not hold myself, and gave it a quick full throttle blast, holding the bike in the air. It showed a max speed of 64km/h, using the Reedy 13x3 motor, a Nosram 3000 nimh PowerPack and stock gearing!
Wonder what she'll do on the street?!
---
Update: Monday morning!
I relocated the speedo, because I could not see it on the side of the bike!!!!