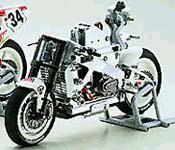 The assembly is divided in 25 steps, which, if followed to the letter, should provide no problem. It took us about two and a half hours to build the bike, without doing any painting or putting any of the almost 90 (!) stickers.
Modelling skill will be appreciated, but even an inexperienced model builder will have no real trouble, if he/she follows the instructions. Some special tools are given with the kit, such as an allen wrench for the single allen-screw, along with a cross-spanner which is used only for tightening the wheel axles.
The extra tools you'll need are described in the first page of the assembly manual. I'll add to these a thin Phillips screwdriver, for the small 2X8 mm screws which hold the balls on the rider's arms and legs.
The instructions are crystal-clear. I'll have to recommend you to be patient and not open all the small nylon bags together, but follow the instructions, which tell you in each step what exactly you'll need.