This page is an Advertisement. It contains material found in various Cinquecento Sporting tuners' catalogs. You'd better view this page with a sense of humour, otherwise it's a little heavy for your pocket to digest! You can always look at other places to have fun! I, in no way would like to offend the brands named herewith.
(Page updated at 18/05/97)


How to make a Cinquecento Sporting cost more than a Fiat Coupe 2.0 Turbo Plus ?!?!?!
Ask

---
They're online nowadays! Click here to visit their wondelrful site!
At first let's clear this out: How low can -or do you want to- go?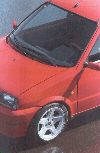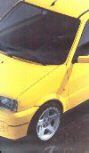 There's the red way, or the yellow one, as shown here... The wheel in the photos is rather big at 14X7", and the tire is a Michelin 195/45R14. As can be seen in the photos, however, these wheels and tires fit the wheelwell nicely! Probably, the suspension has been altered a little, too, with the Novitec shocks and springs (not shown), which lower the car a little more... The real problem starts in the Greek natural "asphalt", where one needs lots more ride height and of course, more wheel travel! this is due to the well known "samarakia" and other very dangerous hazards left by some idiot mechanics, after they fixed a water or power line across the road.
---


The same applies to the stainless steel exhaust (new model not shown) with the dual 2,5 in. outlets that runs across the middle of the rear bumper! The one on the left has a very very large tip which is almost 1/3 the width of the license plate! Woa!
---

Novitec has taken care of the interior, too. The steering wheel shown is a Momo unit with a Novitec logo in the horn. The floor mats are made of high quality carpet, with the company logo also written in carpet. On the underside they have a foam layer. Their cost? Don't ask! they cost 10 times over the mats offered by Fiat! Not shown is the carbon fiber kit for the cockpit. It consists of moulded surroundings for the dial hood, the radio case, the vent controls and the ashtray. If you want more, there are Momo's aluminum or carbon fiber pedals, which bolt over the existing ones. From Momo, also come other nice wheels, in red or yellow trim, and of course the shift knobs, in aluminum or color matched hide!
---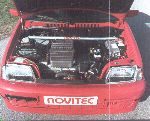 And now for the most interestig part: Engine tuning! Novitec offer various mods. You can go as wild as 120 HP with a turbo installation, but there are more modest mods which are also more cost effective... So, a new free flow header, along with a new chip, a freer air filter and the silencer we were talking above, is a reasonable set of mods, which will give you around 70 to 75 HP. Not bad, Eh? Also, there's an aluminum three-piece wheelwell reinforcing bar. The one from Momo costs almost half the money and is one-piece and made of steel. You choose!
---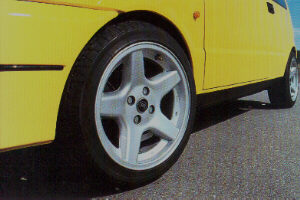 Back to the Sporting page...
Back to the Tuning page...

See Hans's Novitec Sporting!