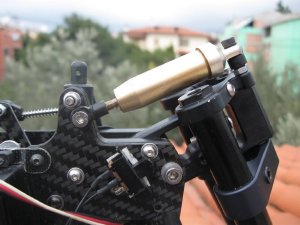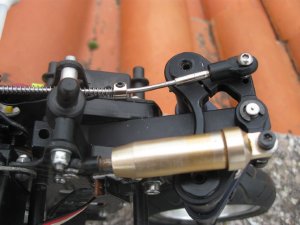 Despite Steve Newey of Formbymodels telling me I wouldn't need one, I decided to install a steering damper. It's an old Kyosho ZXR front shock with 2-hole piston and 300wt X-Ray oil.
I started testing the bike on my local parking lot and realized that even though the asphalt is new and clean and not rippled at all, at certain moments the bike would present me with a terrible headshake. I will test again on the local tracks, and see if I will keep it on. In the end, I might keep it on the bike, just to add weight and help reach the legal limit... I suspect the bike is VERY much lighter than the limit! We will see...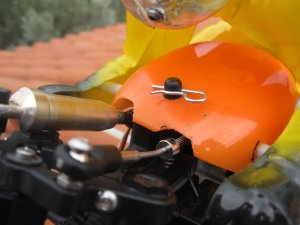 I had to cut the "gas tank" a bit to make sure the steering rod and the damper don't touch anywhere.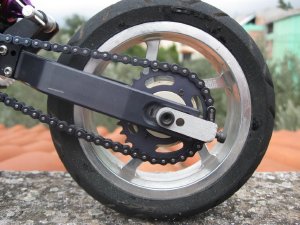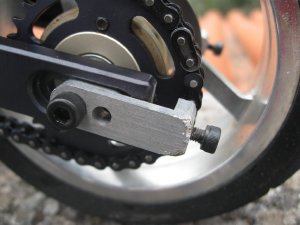 Again, despite Steve's advice, who insisted on not using the chain adjusters, I thought that the rear would look nicer and more complete. As you can see in the right pic, they grind VERY easily during a spill... And I did a lot!
Steve had warned me exactly on this!!!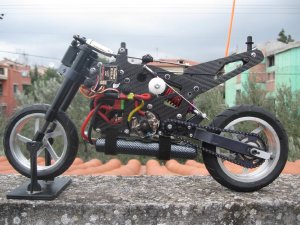 The completed bike with motor, battery etc. When the fairing is on the bike, all the cables are nicely concealed within, not allowing anything to touch the front wheel.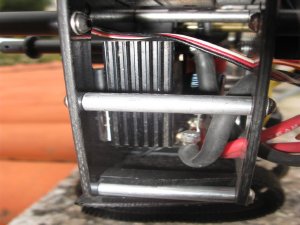 The motor I am currently using is a Yokomo Pro Stock II 27T brushed and an Mtroniks Viper ESC, on Steve's advised gearing. Actually the Viper (and other Mtroniks's) is the only ones that can fit inside the frame plates. No mechanical brakes used, since I'm going to run in the Stock class. The rear disc brake is there for cosmetic reasons only.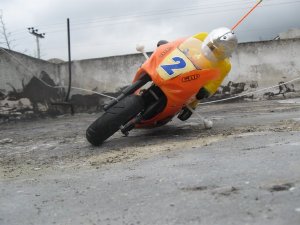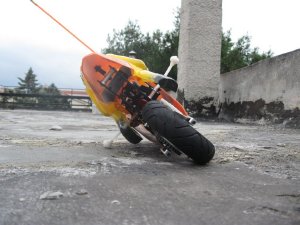 A few weeks after I bought this bike, KPD came out with the new KP10e. One of the features I liked on the new bike was the use of single scratch bars, so I ordered a set from Formby.
With these, as you can see in the previous pages, the looks of the bike stay cleaner than the loop scratch bars and you can keep the rider's leg undremelled!!! (The rear scratchbar post goes right behind his legs, actually...


Back to the first page