page updated September 10, 2001


Welcome to my home page!!!!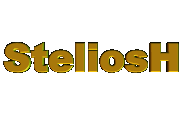 I know you've all been wondering who I am...
So here's your chance to know me better!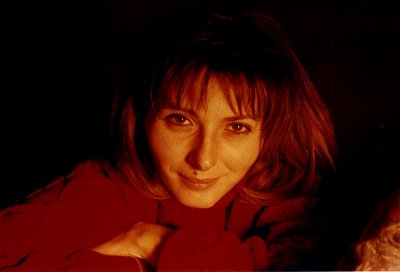 This is my better half!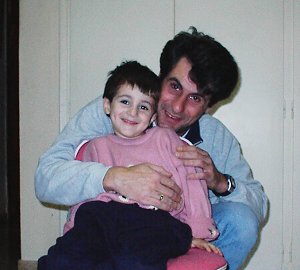 I am 43 years old, work in the computer room of a major Greek Bank (mostly night shifts) and live on the side of the beautiful mountain of Penteli, in Athens, Greece!

What do I do on the net, except making html pages?
I play lots of backgammon! Don't think I'm too good at it... Though it's kind of a National Sport, in Greece, and I've been playing for 30 years now (yes!), I started in Christmas of 95 playing in the GamesGrid.
After they started charging, though, I have switched to the equally good looking NetGammon, which is free for the first 3 months...
Finally... as of late '99, I've decided to quit playing at all... and concentrate more on my kids and family...
but... me being an addict, i started playing at VOG! hehehe! a little less than before, i admit it!!!! :-)
---
My family album starts here!
---
This is my family...
My wife, Ophelia, (above, with me) and our children, Eleonora, 10 years old, and Jason, just past 4 years old, now!



February 18, 2001!Eleonora's 10th Birthday!
---
This is my home office...
This is my family picture album!
This is my Daughter's Eleonora homepage!
These are our home pets!
My interests? Wow! Too many to mention all of them! They range from R/C cars, R/C motorcycles, Plastic motorcycle models to my Fiats!I suggest you better click here!
Some new Pics we took on March 14, 1999!
New Pics! Our Easter '99 pics!
Some more from our country home, on Easter 99 Weekend!
hmmmm... of course we played some backgammon too... who won?!

how to make an omellette... greek style! lol
Did you know you are a ... Greek?!!!!

---
We've done some travels too! They start right here!
---

I rode my motorcycle to Europe! July 25 - August 9, 2000!
---
Not for the faint hearted....
The August 1998 Fires caught at our ex-beautiful Penteli mountain...

---
Pictures from the Greek NetGammon players meetings!!!
The BADDEST tourneys in town, EVER!
---

My Linkz!