Another EP Meeting is history!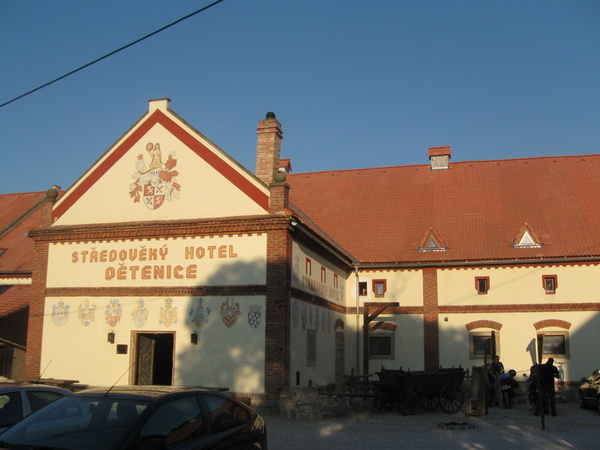 This year the EP took place at Detenice in central Czech Republic. As always, the ride there, the stay and the return trip were memorable! Here's my diary of the trip, then:

Day 0: Sunday June 27, right before midnight I embarked on the Lefka Ori of ANEK Lines, destination Venezia. I rode 225km of motorway from Athens. A very nice and quiet boat trip, indeed, as always, a bit boring, considering we arrived at Venezia on Tuesday early morning, after almost 30 hours. I was lucky to have my 2-berth outside cabin alone, not sharing with anyone! The cost of the 2-way trip was 229 euros, considering that an inside cabin was 15 euros cheaper. So, at least I could look outside my window to the vast Adriatic!

Day 1, Tuesday July 29, then, the interesting stuff begins! Venezia, Castelfranco Veneto, Valdobbiadene, Passo san Boldo, Trichiana (lost my map!), Carnica (SS52), Lago di Sauris, Feltrone.

Day 2, Wednesday July 30, from Feltrone to Kreuzberg, then the B111 to Tassenbach, Lienz, Felbertauern Tunnel, the A93 Autobahn, then Dieter's home.

Day 3, Thursday, July 1, we ride from Heufeld, north through Zwiesel, Klatovy, Bukov, Melnik, Mlada Boleslav, Detenice.

Day 4: Friday, July 2, My tire repaired, Mlada Boleslav, E65 Autobahn, Plavy, Haratice, Zlata Olesnice, Rokytnice, Ride with Peter's maps.

Day 5: Saturday, July 3, Prague!

Day 6: Sunday July 4, Leaving Detenice. Ride with Dieter, Ingrid, Zozzo, Philippsreut, DE, Aigen/Schlag, Austria, Salzburg, Zell am Zee, Fusch.

Day 7: Monday, July 5, Grossglockner, Cortina, Falzarego, Pordoi, San Pelegrino, Passo Valles, Val Floriana, Trento.

Day 8: Tuesday, July 6, Trento, Val Gardena, Passo Gardena, Campologno, Fedaia, Agordo, Passo Cereda, Aurina, Treviso, Venezia.
---

And a Video, here! It's a 9.45 min, 150mb WMV file. After you are in the folder, right click and "save as", to watch!