166
HPI Baja 5b SS
We got ourselves a new HPI Baja 5b SS kit.
It must be the most fun car I've driven so far! Here are a couple of videos we took on the first day, actually running it in and keeping ourselves from full throttle!


---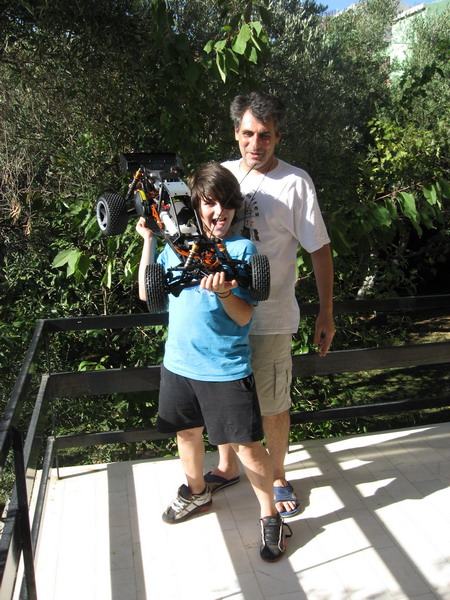 A well deserved laugh! We did it! It's ready to run! No RTR! We DID build it! Phew!
---
Here's the full story:

First... the building of the kit!
Then... running it in for the first time! Running it in?! O yes...
August 23, 2008: Painting and a couple of accessories!
August 25,2008: Destroying a rear tire, bashing!
September 6, 2008: Went bashing again and what happened? Another brand new tire torn apart. Of course!
September 12, 2008: Installing Hostile A/T tires
September 12, 2008: Bashing with Jason!. Lots of pics and a video!
September 26, 2008: Installing a ProtectaBaja skidplate and servicing the air filter
September 27, 2008: Bashing the Baja with options added: Hostile tires, ProtectaBaja. With videos!
October 12, 2008: HPI Challenge 3-hour race at FRT track! Lots of pics and a small video!
October 25, 2008: Some much needed TLC, some thoughts, some new aftermarket parts...
November 8, 2008: Dark Soul Axle extenders and RTR clutch spring added.
November 15, 2008: Painting the Baja Fluo Yellow!!!!
November 23, 2008: Adding lights to the Baja!
November 28, 2008: Race preparation and a couple of mods.
November 30, 2008: Five Hour Baja Race! With Videos!
December 3, 2008: After the race. Assessing the damages...
January 19, 2009: Installing a DDM rear Dominator exhaust!
January 22, 2009: I was named International Protecta sponsored driver. A great Honor to me by Protecta Parts people!
January 31, 2009: We bent the rear Dom and straightened it again! We bashed too! A small video!
February 15, 2009: Four-hour Baja Race on asphalt!
February 16, 2009: Reinforcing the Rear Dom brackets
March 28, 2009: Installing a PB KillSwitch and a Hostile choke lever
April 5, 2009: 3-hour Baja Race on dirt. Pics and videos!
September 11, 2009: A few tools for the Baja!
---

---