EPXI 2006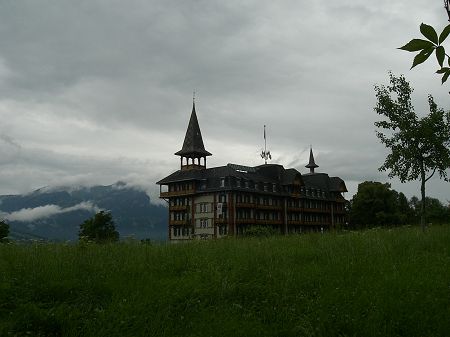 Hotel Paxmontana
---
Yet another EP is History... My third in fact, since 2000, when I first met with this extraordinary bunch of crazy and lovely people!

So... how did I do it?! Fairly easily, even though I had a couple of heavy rainfalls on my head. The second one was on everone's too! The first one I had it on my own on the way to Flueli Ranff.
But first things first, right?

The diary reads as follows:

Monday, July 3, 2006: No pics in this one. At 11.00 am I left home. I enter the Attiki Odos, and right after paying the toll, I stop outside the booth to call my friend Costas, so we can meet soemwhere down the Attiki Odos to have a cup of coffee before I leave. I search for my cell phone, no cell phone! Ouch! On the next exit, I head back home, where I find a panicked Ophelia: "You've forgotten your cell phone here"! I pick it up, and head to AO again, still a lot of time to spare. The boat would leave at 18.00 pm and it was still noon and I have to cover barely 215km's of motorway.

Tuesday, July 4, 2006: No pics in this day, either. At around 14.30 pm the ferry arrives at Ancona, I head on the autostrada and do the 555km's to Collegno, near Torino in a lazy 6 hours...

Wednesday, July 5, 2006: 1/10 Touring Cars World Championships. I took a million pics today, but I will not post a lot here... Oh... and quite a lot of videos too...

Thursday, July 6, 2006: More racing and my ride to Flueli Rannf.

Friday, July 7, 2006: Reto's tour in the rain!

Saturday, July 8, 2006: Lazy day, visiting the Luzern Transport Museum.

Sunday, July 9, 2006: Ride to Gavirate. Finals onf Soccer WC!

Monday, July 10, 2006: Ride to Bellagio and then Milano.

Tuesday, July 11, 2006: Ride to Ancona.

Wednesday, July 12, 2003:Ride from Igoumenitsa to HOME!!!

Thursday, July 13, 2006: You don't want pics of this day, right?! I just went to work again!

So... When is the next EP?!
---
Links with pics!
---
http://survey.ltu.se/movies/ep_xi/
http://www.xs4all.nl/~tvbum/EPXI/
http://www.motorbike-pepper.de.vu/